No-Sword
To on-lookers, magic is the sea. To me, it's the shore; as familiar as the Samurai to the sword, or the moon to the tide. It's an excuse to walk around and practice Bushido- no lie. It's a lopsided sculpture of myself in disguise that I constantly chip away at, with every show I do or crowd I cut through. It's an opening to the outside, where I can say what I need to say in front of all the people in the way. It's a Way, I was once told, as valid as any road. It's a journey that goes in a circle; around the world like an eagle and back; around the ego and back. I literally traveled the distance on this craft, meeting as many cool characters as RPG games are a blast. I crossed the sea and met my fiance in the Philippines, in that one specific class I did a show for. I suspect, magic is a way to love. I am in love with magic: a grain of sand in a universe of things I could have chosen to do. I could have been a recluse chopping bamboo! Instead, I am mastering myself whenever I step out of my cave and perform for you/me/doesn't matter who. I have nothing to prove. Magic for me is unproven alchemy: work turned to love, turned to God, turned to her, and into every important thing in the ten thousand things that I believe a soul should visit. I leave magic for love-work on Monday. I know it won't go anywhere, like the seashore. I'll miss it.
-from When Swords VanishPhoto: Agnes Pasco-Antonio, @Florida International University's Wolfe Theatre
Powered by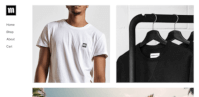 Create your own unique website with customizable templates.