As my audience in magic grows as distant as my practice has gone recluse, I can only etch onto the cave walls of my hermitage what I wish to leave behind. I know all earthly works will vanish one day as sure as these gig conquests are becoming less, and I sail onto new adventures beyond the fortune and glory of crowds applauding at the shores. Magic is my martial art, and I am peaceful not fighting: I keep chanting this to myself, as I direct my training inwardly as breathing, or skyward as prayer. I wanted praise or recognition once, and perhaps still do as one would want chocolate. The rebel kid in me still wants to storm the palace of the magician hierarchies and declare my convictions, as Samurai of long ago would declare their lineage before battle. I believe, as the great mage Rocco declared to me, that magic is from the soul. I may not have the swiftest hand for sleights, the sharpest mind for thinking up effects, or the DNA of an entertainer, but I am left with my soul: my sword. My goal as a magician is to unsheathe that, entertain heaven.




Be ready for

WHEN THE SWORDS VANISH, my new book of poems written for the martial art of magic. Coming soon when you least expect!
Powered by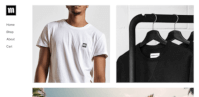 Create your own unique website with customizable templates.